In the fashion world, it is style that comes first before function. One way to be fashionable, especially during the cooler months of the year is to wear scarf. Many men have done a lot of things to it. They twist it, tie it or knot it-even though beads os sweat are already trickling down their throats and neck.
Men's Snood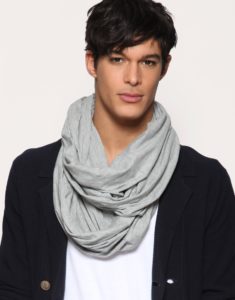 The snood is the amalgamation of the hood and a scarf. It not much of a hood but it is more of a scarf, really. Just one look at it and you'll know that it has the scarf as its forefather. One way men wear it is because it allow them to infuse some sort of soft material to an otherwise tough and hard material of water resistant winter clothes. One way to look at it when you want to invest is the kind of stitching, details and the kind of knit.
Almost all body types can wear the snood, except when you are old, like somebody who us undergoing some mid-life crisis.
Shorter guys would opt for thinner materials for it can overpower the length. One style is to elongate the neck. Avoid the single loop and keep the snood fall just below the collar bone.
The snood looks bets for taller guys. They can do it any way. It is better worn when it is in its chunky mode. To avoid the lanky look, avoid the thin ones. To maintain the focus upwards, twist it more than one to create volume on the neck area. Don't forget to loosen it a bit, unless you would want to look like you want some fashion suicide. Don't make it too thick. It would look like a neck with a hula hoop.
Large guys would want it thin. It would highlight those abs you have been working out these past few months. One large loop is just the icing on the cake.