Ah, flip flops. One of the greatest inventions in the world. Flip flops are extremely popular, and they are a common sight in the warmer months. Flip flops for men may not involve extremely bright colors and flowers, but they are classy, stylish, and look great on anyone. You can get flip flops for just about any occasion – dressier ones for semi-casual or more formal events, sporty ones, and flip flops that are good just for hanging around the pool.
If you are attending an event that will allow you to wear flip flops, but would like you to be a bit dressy, there are some perfect styles for you. Some dressier flip flops are made with leather – leather uppers, leather lining, and a leather line footbed, for example. These dressier flip flops are also great because they are usually very comfortable. You can also find flip flops that are made with suede, which is perfect for parties or anytime you want a dressier, preppier flip flop.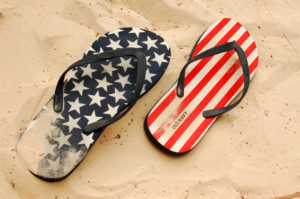 Classic rubber flip flops are perfect for spending days at the pool or the beach. These flip flops come in several different colors, and are surprisingly durable. They are also very comfortable, which surprises many people. One of the best things about these kinds of flip flops is that they are not usually very expensive. Foam flip flops are also great for the beach or pool, and these are usually only a couple of dollars. Casual suede styles look great with jeans or khakis, and are always incredibly comfortable. You can even get flip flops that are sporty and have lots of foot support while still giving you the traction that you need for such activities as running or touch football.