Back in the 70s, clogs were extremely popular and they are fast making a comeback today. A clog is defined by the overall style of the shoe. Usually, they have an open make making it easy to slip them on and off. Traditionally clogs had wooden soles and leather uppers, with the toe rounded and pointed up slightly. Now clogs are much more modern and made in many different colors and from many different materials.
There are clogs that are made specifically for women, though some men wear them and look good in them. But there are also clogs that are made just for men. The problem is that many men won't wear clogs because they used to only be worn by women. But the clogs that are made for men are not the same as the clogs that are made for women, so men really have nothing to worry about. They won't look girly when wearing clogs, just fashionable! Men's clogs are not chunky through the heel at all, like many of the women's styles are. Men's clogs are also in colors that are appropriate for most men, such as black or brown. Another great thing about men's clogs is that they are almost always made of leather.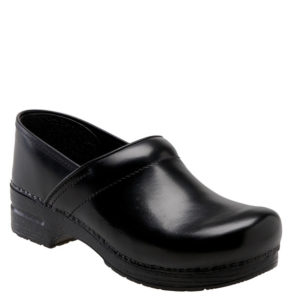 Clogs are very versatile, and this appeals to many people, men included. Many in the medical field love to wear clogs, and the ones that are designed just for medical personnel are made of a sturdy rubber that keeps medical staff safe from hazards but also are very comfortable and usually support the feet well. Most clogs are great for slippery surfaces, as they have good traction, and this can appeal to many men who do yard work or who work in the garage where they could spill something and fall. But the number one thing that makes clogs well worth wearing is the comfort – there just isn't anything quite like them.