One of the most important things that you can do for your feet is to get the right kind of running shoe. The right kind will help you be able to run comfortably, without sustaining injury. You need shoes that cushion and absorb shocks, and that have a sole that is both flexible and durable. Make sure that the shoe has good traction so that you don't slip while running.
So how do you find the right running shoes? You should visit a running specialty store. Any sports store should have someone who can help you find the best shoes, and the salesperson should look at your feet and ask you lots of questions while showing you several different kinds of shoes.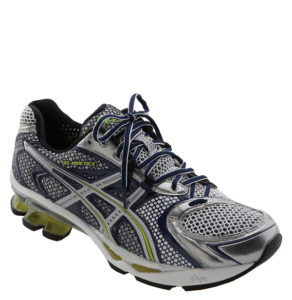 Adidas 'Response Stability' Running Shoe by Nordstrom $84.95
You need to know your foot type, so make sure the salesperson both looks at your foot and measures it. Buy shoes that are a half size or even a full size bigger than your regular shoe size, because your feet will swell while you run. The salesperson will want to watch you at least walk in the shoes, but will probably ask you to run a bit so that they can see if you tend to roll your foot in or out when running.
Nike 'Lunarfly+' Running Shoe by Nordstrom $79.95
If you go to a sports store or a specialty store, they won't mind if you run so make sure that you are dressed for running. Run in every pair of shoes that the salesperson recommends because walking a few steps may not tell you if the shoes are the right ones or not. Run in them for a week to test them out after you buy them. If you get blisters or pain, they aren't the right ones for you and you should take advantage of the exchange policy. Most stores will let you exchange the shoes. Replace your shoes every 300-400 miles, and you might be able to find them online for less.