Men's suits are available in many styles. While the general idea of creating an elegant professional ensemble is the same, the details are what make each suit unique. The small changes that are made in cuts, weaving patterns, fabric weights, and colors let each man choose a suit that is truly unique for him. Yet suits can be very uncomfortable during the warm summer months, but there are things that you can do so that you can still look great in a suit and also be comfortable in warm weather.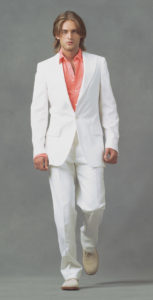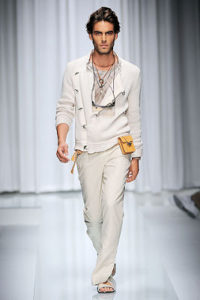 Men's Suits Summer
For one thing, you need to wear lighter colors in the summer. The most popular suits for the summer months are grey, beige, and tan. White and camel colored suits are not as popular and are not very suitable for business attire, but they are great for events such as an outdoor summer wedding. A light gray suit is easily matched with most shirts and ties, which makes it easy to wear for men who have limited accessories. If you want a beige suit, wear brown shoes and belt and gold colored accessories such as cufflinks.
You need to wear comfortable, lighter weight fabrics if you want to be at ease in your suit in the summer months. The number you see on a wool suit is not the fabric weight; rather, it is the quality of the wool. The higher this number is the finer the wool is and this means that the fabric will be lighter. Fabric weights are measure in ounces in square yard and you want your summer suit to be 7 to 9 ounces per square yard. You should wear more delicate patters on summer suits, such as Birdseye pattern, fine pin stripes, and delicate checks. Avoid wearing houndstooth, herringbone, Twill weaves, and Glen check.