Hats are hot for both men and women. Men have always worn hats of some kind or another such as the ball cap whether worn straight on or to the side or bill backwards these caps have been worn for practical reasons or to follow a fashion trend like wearing them to the side with the bill off to the side of the head.
Men's Hats are In!!!
Also those wool caps that you put on the head and pull down to the tips of your ears are trendy. These may be adorned with your favorite sports team on them and are sometimes called toboggans or ski hats.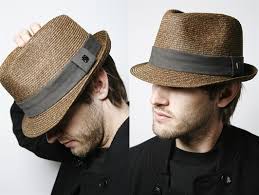 But the really hot trend in hats right now is the traditional fedoras. These have been worn through the decades by gangsters, mafia, as dress hats in the 40's and 50's. Today they are hot for just about any male. You see them on hip hop punks, jazz musicians, celebrities the casual male on the street.
There are some differences in them. Some of them have smaller brims. Some of them are formed so they are not too flexible. Some are made from fine fur felt. Borsalino makes fine Italian styles of fedoras that are as soft as velvet. There are Australian bush hats that are waterproof. Some of them have a wider brim so you can set it on your head and tip it just so and it gives you a jaunty look or a cool look or a kind of sexy look. These hats are hot.